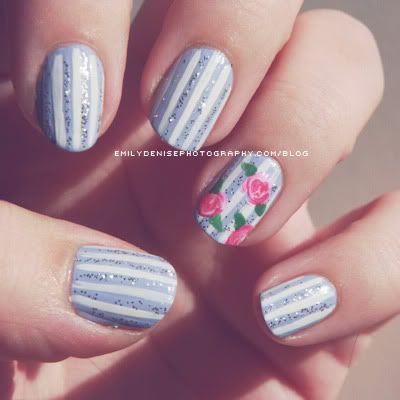 Yesterday my tweet read: "Just did the cutest spring manicure ever and my pictures turned out ah-ma-zing. I'm chuffed! I blame the sunshine."
So here it is! My spring manicure! I'm so in love with it, words just can't describe it. Also really love how my pictures turned out. I did one indoors with natural sunlight and one outdoors between the grass, though our lawn is mostly moss nowadays, oops. 😀
Models Own Beth's Blue
White nail art pen
Silver glitter nail art pen
China Glaze Rich & Famous
China Glaze Snow
China Glaze Starboard
I need your opinion:
As you may (or may not) have noticed, my watermark has a different font in these pictures. If would love it if you guys could give me some feedback on whether you like the old font or the new font. To make things easier for you I put a poll on the left side of my blog so you can simply cast a vote. If the majority prefers the old font I will stick to that, if not I will use this new one instead! Thank you!
My poll has now been removed! Thanks so much for all your votes, everyone chose the new font so I'm sticking to the new one! 🙂 That was my choice too so glad to know you all agree.