Some of you may have heard of water marbling, you will find endless tutorials on youtube on how to do it, though beware! In my experience, it never does what you want it to do and it's quite messy and time consuming. This however wasn't done with water, it took almost no time whatsoever and isn't nearly as messy as water marbling, no mess at all in fact! 😀
In close-up.
HOW-TO:
First you paint a regular coat of dark polish all over your nail.
Quickly put a few small dots of lighter polish on your nail while everything is still wet.
Swirl them together to create a marble effect with either a fine brush, a toothpick or a needle. Easy!
The more you mix them together the more subtle the design will be, the less you touch it the more dramatic it will be.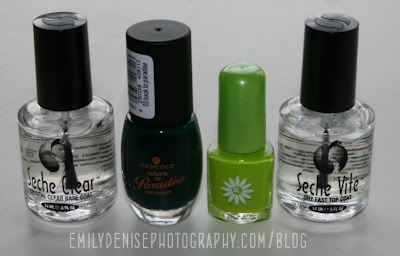 These are the polishes I used from left to right: Seche Clear, Back to paradise by Essence, Bright green polish by 2B, Seche Vite.