As I mentioned yesterday on my twitter I have exciting news for Belgian (and Dutch) Budget Beauty lovers! Kruidvat stores will be gaining a new brand, fresh from the United States of America called N.Y.C., short for New York Color! It should be arriving VERY soon, either this month or next! I have read that only the major stores will be stocking it for now and I'm not 100% certain Belgian Kruidvat stores will be getting N.Y.C. too, but I am hopeful we will. Fingers crossed everyone!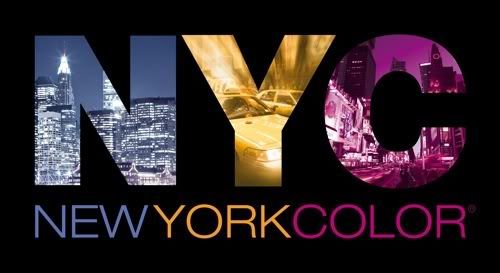 And more exciting news! Our favourite budget brand Catrice is changing their permanent line! About 10-15 of their regular Ultimate Nail Lacquers will be disappearing and lots of exciting brand new colours will be added! And don't worry, the colours that will be disappearing are (to my opinion at least) the less interesting ones. Primarily a few of the ones that didn't have such a great formula such as Don't Feed The Birds which was very sheer and some of the pinks and reds won't make the cut either. Take a look at what Catrice has in store for us:
Raspberryfields Forever – Just Berried! – Forget-Me-Not – Purplelized
Dirty Berry – Pool Party At Night – Blue Cara Ciao – Sir! Yes, Sir!
Miss Piggy Reloaded – Snow Motion! – Easy Peasy, Lemon Squeezy! – Bye, Bye Birdy!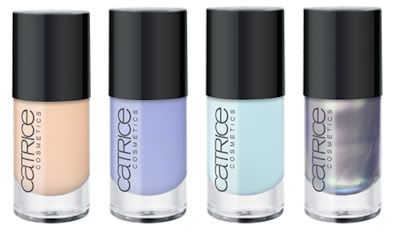 Apropos Apricot – Up In The Air – Am I Blue Or Green? – Iron Mermaiden (holographic? duochrome?)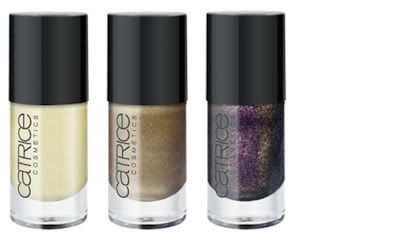 Sand Francisco – In The Bronx – I Wear My Sunglasses At Night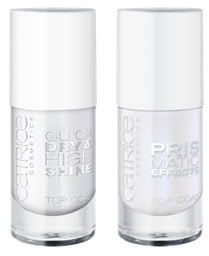 Catrice Quick Dry & High Shine topcoat – Catrice Prismatic Effects topcoat
They will also be adding 6 nudes to the core collection, they will have a white cap instead of a black one and will be called Ultimate Nudes. All Ultimate Nail Lacquers, Topcoats and Ultimate Nudes will retail for €2,49. Great quality at amazing prices! I for one can't wait to see all these colours, especially the pastels, blues and greens.  And we don't have to wait around for very long to see them either, my sources tell me that we might see these new colours in Kruidvat stores this week!!!
Also, how cute are the new names! I really love it when brands take the time to come up with interesting and fun names for their products. Who remembers numbers? No one… We remember the quirky & cute names! My favourite names are: Apropos Apricot and Easy Peasy, Lemon Squeezy!
Catrice does it again!