10th December, 2010
Since yesterday's post was a big pile of fail I bring you a new one today. I bought three bottles of Etos Effect Nails a while ago when I was in Holland and here are some swatches of the purple one on top of a black.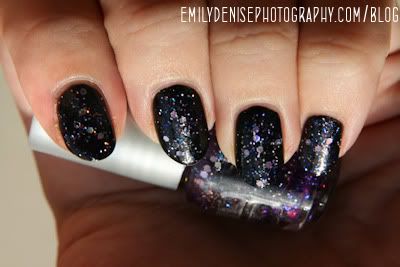 This is Etos Effect nails in purple on top of MNY 674 which is a black with a metallic sparkle. This manicure totally reminded me of nebulas!
I added Essence's matte topcoat in this picture. It looks quite interesting doesn't it? Matte topcoat on top of glitter always gives this sort of strange effect.
Shiny and matte compared.
Posted by Emily - 9443 Commentshttp%3A%2F%2Fwww.emilydenisephotography.com%2Fblog%2F%3Fp%3D944Etos+Effect+Nails2010-12-10+19%3A06%3A49Emilyhttp%3A%2F%2Fwww.emilydenisephotography.com%2Fblog%2F%3Fp%3D944