7th November, 2010
For some reason I tend to grab for my Bella's choice (by H&M) very often when I'm doing nail art. It's a stunning blue and goes well with a lot of colours, it just really pops out!
I did flowers a few months ago but it didn't came out like I wanted it to, it also took ages so I wasn't too keen to do them again. This time though they came out a lot better, they look really cute.
Colours used:
H&M Bella's Choice
Claire's nameless purple
China Glaze Snow
Essence Back To Paradise
2B nameless lime green
Manhattan 76 black
Seche Vite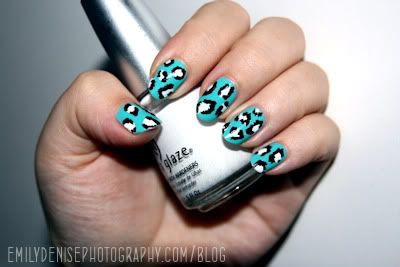 A leopard manicure is something I reach for when I want to do something bold but don't have a lot of time. Leopard is very easy to do once you get the hang of it, it only takes me roughly fifteen to twenty minutes to do both my hands, other manicures usually take twice as long. I didn't use Seche Vite however so I had chips the next day (as you can see on my index finger). Booo for chipping!
Colours used:
H&M Bella's Choice
China Glaze Snow
Black two way nail-art bottle
Posted by Emily - 9281 Commenthttp%3A%2F%2Fwww.emilydenisephotography.com%2Fblog%2F%3Fp%3D928Bella%27s+Choice+Nail+Art2010-11-07+19%3A12%3A07Emilyhttp%3A%2F%2Fwww.emilydenisephotography.com%2Fblog%2F%3Fp%3D928