19th June, 2010 - Posted by Emily - 711No Commentshttp%3A%2F%2Fwww.emilydenisephotography.com%2Fblog%2F%3Fp%3D711Nail+trends+for+Summer+20102010-06-19+14%3A20%3A22Emilyhttp%3A%2F%2Fwww.emilydenisephotography.com%2Fblog%2F%3Fp%3D711
In a few days summer starts, so I thought it would be appropriate to share with you girls what the hot trends are this summer nail wise. One of the biggest this summer is Greige. "And what's that?" I hear you say, it's a mix of grey and beige. Also in this category are browns and taupes, and lots of muddy colours. As often the case, trends start on the runway, I believe it was Chanel who started this trend with their nailpolish Particulière.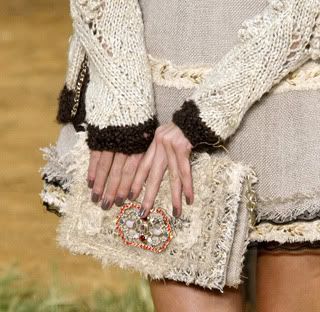 Chanel Particulière as seen on the runway.
The Greige Catrice polishes available at Kruidvat, from left to right: From Dusk to Dawn, Lost in Mud, Clay-Ton my Hero, London's Weather Forecast.
I for one am not a fan, greige doesn't really scream summer to me. I would associate these colours with fall or winter much more so than summer, I'm sure you'll agree. The Greige trend is certainly not for everyone, I don't think all skin tones could pull these colours off. I did a grey nail look before this post with London's Weather Forecast, I liked it but I wasn't blown away by it. The weather we're having is so glum, it's nearly July and still it's cold outside and the skies are grey. I really need happy and bright colours now which leads us perfectly into the next trend… Neons and brights!
This is a look a lot of celebrities are sporting now, hot pinks, vivid oranges and bright yellows.
(image courtesy of MTV)
Katy Perry at the MTV Movie awards, changed nailpolish in the same evening! The yellow she's wearing is from the poolside collection by China Glaze called Yellow Polka Dot Bikini.
I think this is my favourite collection of nail polishes ever, especially Flip Flop fantasy and Sun Worshiper which I'm sure you'll remember from my china glaze post. When I'm wearing my neon nailpolish I feel ready to soak up the sun and relax by the pool, now all we need is the weather by our side! Let the summer begin!
Tags: 2010, bright, catrice, chanel, china glaze, katy perry, Nail Polish, neon, particuliere, poolside, summer, trends
Posted on: June 19, 2010
Filed under: Nail Polish, Nails