14th June, 2010 - Posted by Emily - 6712 Commentshttp%3A%2F%2Fwww.emilydenisephotography.com%2Fblog%2F%3Fp%3D671Seche+-+Secrets+of+the+French+Manicure2010-06-14+15%3A47%3A33Emilyhttp%3A%2F%2Fwww.emilydenisephotography.com%2Fblog%2F%3Fp%3D671
As promised, the first of the AII Beauty product reviews is the French Manicure set by Seche. I know some of you may not know this brand but if you're a nailpolish addict like me I'm sure it will ring a bell. Seche has a famous topcoat called the Seche Vite which is the best topcoat in the world! Many webshops in Belgium and the Netherlands stock this so keep your eyes open for it.
From left to right, Seche Vite top coat, Seche Porcelain, Seche Rose, Seche Clear base coat. The box also includes nail stickers to make the half moon for the French nail. I once did an entry on French Nails a long while ago and I mentioned there that I'm not a fan of nail stickers, they don't work for me so I didn't use them. I drew the whites freehand which isn't that easy but they turned out great. It does take some practice.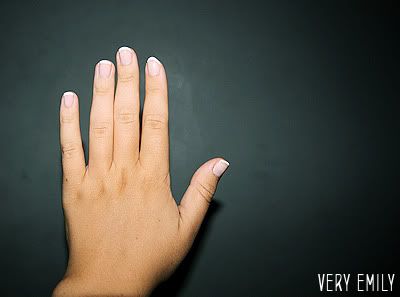 In close-up
It doesn't show up in this picture but the Seche Vite is super high gloss, I've never come across such a shiny nailpolish even a friend said "your nails look so shiny!" I'm a huge fan of shiny nail lacquer so there's no doubt I'll be using the Seche Vite with every nail look I do from now on. I'm a convert!
You can find the top and base coat at Enchantra for €6,95 each.
I was sent these products by AII Beauty, I was free to do this review. I am not in any way affiliated with this company nor am I being paid by them. All opinions stated are honest and my own.