4th May, 2010 - Posted by Emily - 4396 Commentshttp%3A%2F%2Fwww.emilydenisephotography.com%2Fblog%2F%3Fp%3D439Yellow2010-05-04+15%3A24%3A32Emilyhttp%3A%2F%2Fwww.emilydenisephotography.com%2Fblog%2F%3Fp%3D439
"Tonight I'm not taking no calls cause I'll be dancing!"
It's been out for a few weeks now, the new Lady Gaga video, Telephone. I've been madly in love with it ever since I first saw it, it's a piece of art. Lady Gaga is my one weakness, I just love her catchy songs and her over the top wardrobe. It's a breath of fresh air to finally see something else than skimpy booty-shaking bimbos on the telly. I hated her on her first Friday Night with Jonathan Ross appearance, she is a bit full of herself but I just can't help dancing to her tunes.
One of the things that immediately caught my eye in the telephone video (besides the obvious) was Beyoncé's make-up in the petrol station scene. It looks absolutely stunning!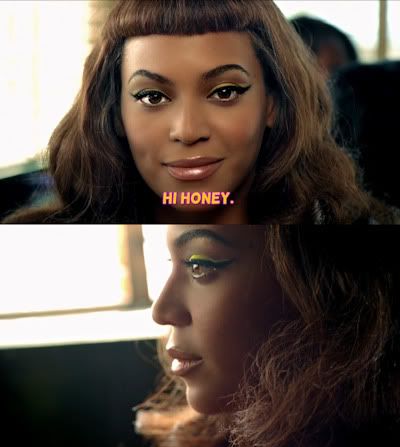 This morning I felt like recreating it myself. One of the reasons it looks so stunning is because of Beyoncé's chocolate brown skin, sadly I don't have a dark skin like hers otherwise I'd have looked even better!
I added a few false lashes to dramatize the look even more, (I found them in a discount basket at Kruidvat) though they're a bit too dramatic for a day look, I'd really love some more natural looking lashes though haven't got the budget to spend, if anyone knows some great inexpensive lashes let me know!
I used a liquid liner pencil by Manhattan and the yellow eyeshadow in my 88 palette. A fun tip to make your colours more vibrant, try to wet your brushes first! It helps a little bit. You can also use mixing medium, I believe MAC has this but you can also make some yourself, I'd love to try it but you need cosmetic glycerine, I've no idea where to find some, should look around in Holland at a chemist's maybe. I'll let you know if I find any and if it works.