5th March, 2010 - Posted by Emily - 378No Commentshttp%3A%2F%2Fwww.emilydenisephotography.com%2Fblog%2F%3Fp%3D378Ombre+manicure2010-03-05+16%3A00%3A41Emilyhttp%3A%2F%2Fwww.emilydenisephotography.com%2Fblog%2F%3Fp%3D378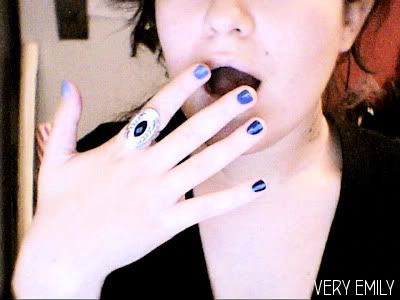 Yesterday I posted this on Facebook, cool right? It's called an Ombre manicure and it's basically a transition of light to dark but with a different colour on each nail. I must have ten different bottles of blue you girls are thinking, well, I don't. You have to mix 1 colour with white each time! The colour on my pinky finger is the "original" nailpolish. It's one of the show your feet nailpolishes by Essence, I used the same nailpolish in a previous look. You just use a piece of paper to mix each colour on, start with some white and add some blue, paint two nails on each hand, then dab on another blob of white and add less blue, and continue this way until you've got a nice transition. It's best to start off with a dark colour as your main polish, but you can also use a lighter one and then add black to go darker.
Of course the picture on the top isn't very good as it's a webcam image, so here a cooler one with my camera. The ring I'm wearing is also from kruidvat, and only cost €4,95. Cheap and fun!