17th July, 2011 - Posted by Emily - 15546 Commentshttp%3A%2F%2Fwww.emilydenisephotography.com%2Fblog%2F%3Fp%3D1554Rotterdam+Part+III%3A+The+Haul.2011-07-17+17%3A21%3A51Emilyhttp%3A%2F%2Fwww.emilydenisephotography.com%2Fblog%2F%3Fp%3D1554
First I shared the nails I wore for my visit to Rotterdam, then I showed you the pictures we took and finally today it's time for my haul! I bought a ton of stuff, since there were sales going on I managed to find so much bargains! I just couldn't resist. Here's what I found: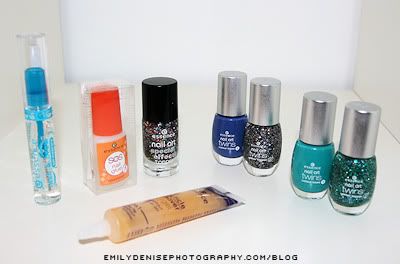 My very first stop when we hit the high street was Kruidvat since number 1 on my wishlist was Essence Circus Confetti (a dupe of Deborah Lippmann's Happy Birthday). I've been craving for it for months and months and was devastated when I found out that Belgian Kruidvat stores weren't going to stock it. I found a Circus Confetti bottle in the first Kruidvat we entered so I was over the moon. I also picked up four of the Essence Twins, a back-up of the SOS Nail Glue, Cuticle Remover and Lash & Brow gel.
Our second stop was Sephora inside V&D. I picked up an Urban Decay Naked Palette which was second on my wishlist. I've been eyeing this baby up for ages so I was extremely happy I was able to find it. Belgium doesn't sell these so I knew that if they wouldn't have it in stock I wouldn't be getting a second opportunity to buy it any time soon. The lady at Sephora told me that these are usually sold out so I was very lucky! They normally go for €47 but with the sales discount I bought it for €39,95. The new UD Naked Palettes come with a brush worth $26 instead of a black/brown double sided eyeliner pencil. I would have preferred the eyeliner since I don't have a brown one but the brush is really nice! It also came with a mini Urban Decay Primer Potion, squee!
We also went to H&M where I bought these dresses (and the ones below!). I almost solely wear dresses and since I needed a few more I tried on about 20 dresses and found 9 in total that I loved! All of these were 50% or 60% off!
The dress on the far right is my favourite! It looks like a leopard print from a distance but up close they're lips! In total these 9 dresses would have cost me a whopping €124,55 but with the sales discount they cost me €53. Just over 50 euro for 9 dresses, not bad if you ask me!
Also at H&M I bought these two skirts.
At ICI Paris XL I bought this Party Pack of Lipsmackers! I was hoping to pick up a watermelon Lipsmacker to try out but since they didn't have separate ones I got this pack of 8. I've never used Lipsmackers before so I wasn't sure if I was going to like them but they all taste and smell lovely.  The scents/flavours in this pack are: Cotton Candy, Wild Raspberry, Tropical Punch, Strawberry, Mango, Vanilla, Kiwi and Watermelon. This was €8,99 so just over €1 a piece.
Then finally on the last day we went to Primark! The Primark store in Rotterdam is located just outside of the city so I got my uncle to drive us (thank you Maarten!) so we didn't have to take the train. It was less busy than the Primark in London but also a lot smaller. They didn't have as much clothes but since I bought a ton of dresses at H&M I only looked at the accessory and nightwear section. This is a handbag I got for just €13. It's quite large so when I need a bigger purse I can grab for this one. It's in the style of old leather schoolbags which I love.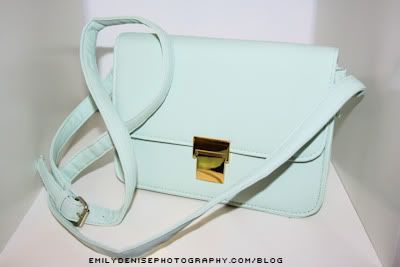 This is a mint green purse I got for €8. It's more minty green in person, it looks light blue on my screen here. I needed a new purse so I got three, oops! This one's quite similar in size to my old purse but since it's such a bright popping colour it makes more of a statement than my black purse.
This I just had to buy! I fell in love with it and even though I might not use it I just had to have it. It's a box purse, on my bill it says camera box bag. Now I doubt my camera fits in here but it's just so adorable. It was only €9.
These are ruffle sandals I got for €7. They had these in several colours but obviously I went for these turquoise blue ones. I regret not buying more colours as they're very comfortable and cheap.
I also got two diadems. One with feathers which I absolutely adore and one with a faux leather bow in a dusty mauve. The feathered diadem looks so pretty. I always loved feather extensions but find they only really work if you have straight hair so this is the perfect alternative. They were €3 and €2.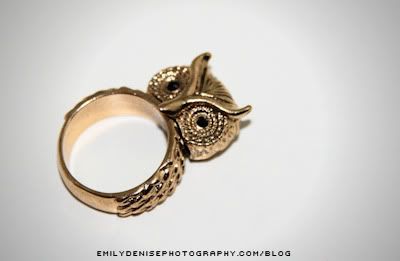 This is another one of those had-to-buy. It's too large for me, I tried it on in the shops but since it was stuck to something it seemed like the right size but once I took the packaging off it was too loose. I might attach this to a string and wear it as a necklace. I'm not sure! I'm not really an accessory type of girl but I thought it looked adorable. It was €3.
These are a few clothing items I picked up at Primark. A tank top in a dusty mauve, an oversized tshirt to wear as a pyjama and two pyjama dresses. One for me and one for my mum! I bet you can guess which one's mine! I thought that bow was just too cute. Both pyjama dresses were €4 which is a steal. They're very well executed and my mum's pyjama even came with spare buttons. How they can produce these items and still have profit on them? I have no clue but I doubt I want to know…
And lastly I hauled a cinema ticket! Nah just kidding!
This isn't really part of the haul and should have been in my previous post but oh well. Since it was the premiere of Harry Potter the week we were in Rotterdam we decided to go and see it there. I did some googling and found out that Rotterdam has an IMAX Theatre, something we don't have in Belgium. I was beyond excited since I've never seen a movie in IMAX before. We didn't have the time to go on Wednesday so on Thursday we got up at 8AM and went to the morning viewing of Harry Potter and the Deathly Hallows Part II. The morning viewings are €4 a person cheaper so we paid very little money for an IMAX 3D movie! The IMAX screen was a fair amount bigger than what we were used to, the movie was also in 3D which I wasn't too happy about at first. My first and last experience with 3D was last year when Dries and I went to see Alice In Wonderland. I hated it, it didn't do any justice to the movie, washed out the colours and it gave me a headache more than anything.
However this time was completely different! Maybe it was the way it was filmed, maybe it was the quality of the screen or the spectacles that were a lot more comfortable. I'm not sure what it was but the 3D was absolutely stunning. The movie blew me away, I sat there in awe and I cried my eyes out from start to finish. I wish I could go back and see it again and again. It really exceeded my expectations, they did an amazing job. I really feel as though they pulled out all the stops to make this movie the most amazing yet, and it was. I just have no words for how much I loved it. I'm really glad we had the opportunity to make this last Harry Potter movie viewing special, I'm certain we're never going to forget it.