28th June, 2011 - Posted by Emily - 150314 Commentshttp%3A%2F%2Fwww.emilydenisephotography.com%2Fblog%2F%3Fp%3D1503Born+Pretty+Store+Order2011-06-28+10%3A29%3A20Emilyhttp%3A%2F%2Fwww.emilydenisephotography.com%2Fblog%2F%3Fp%3D1503
A fortnight ago I placed an order with Born Pretty Store. I had been wanting to for a very long time but since I found out more about acrylic systems I went ahead and placed my order. These weren't sent to me for review, I purchased them all myself with my own money!
Get ready for a picture spam! Here's what I received on Wednesday:
Ohmygawd look at that pile of goodies! *swoon*
I splurged and bought a ton of items! This is what I got:
Heart Shape 3D Acrylic Mold 5 = $2.51 – €1,70
Bow Shape 3D Acylic Mold 31 = $2.51 – €1,70
Acrylic System = $11.83 – €8,20
18 Color Acrylic Powder = $9.50 – €6,60
White Buffer Block = $1.89 – €1,20
100 pcs Fimo Canes w/ Cutter = $13.66 – €9,50
3 Sizes Pearl Rhinestone Decoration= $4.14 – €2,80
Gold & Silver 3D Steel Ball Nail Art Decoration = $4.17 – €2,90
12x Dried Flowers = $6.15 – €4,30
5pcs Nail Art Acrylic brush = $9.10 – €6,30
Pink Instant Cracking Nail Polish = $5.50 – €3,80
Gold Glitter Nail Polish 80 = $4.22 – €2,90
So in total I paid €50 (including tracking number which was €2,10). That is an AMAZING deal! I know what the prices are locally and on eBay and honestly, nothing compares to BPS prices. They have FREE SHIPPING which is amazing, though I do recommend getting the tracking number, just in case your package gets lost you have some sort of insurance. So basically I paid €2,10 for shipping, what a steal! I was afraid that some items might get damaged on the way to me but everything was packaged very well, all the breakables were wrapped safely and everything arrived in perfect order.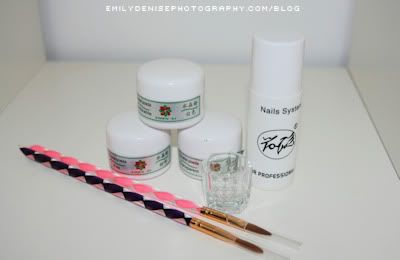 This is the Acrylic system I got for €8,20 which included three jars of acrylic powder in pink, white and clear. A 120ml bottle of acrylic liquid, a dappen dish and two sable hair brushes. My main issue with this was the overpowering smell of the acrylic liquid. I was prepared for a strong smelling liquid since I knew that acrylic tends to have that but I wasn't ready for this. It's so strong it hurts my lungs and make me cough and gag like it wasn't pretty and it's basically impossible for me to use. I tried using it outdoors with a mask and still it was too strong for me so I'm going to look for an alternative, if  there is one. I still think this is a great deal for the amount of powders and items you get. In my personal case the acrylic liquid is unusable but this may not be the case for you.
These are a selection of acrylic powders I got for €6,60. A very good deal since you get a lot of colours. The jars hold about 6gr of powder according to the website, which I am not sure is accurate since they're only filled about halfway. They come in a very cute box and they sit in a plastic tray. I love the selection of colours and have tried this set and they work very well. I have noticed they tend to lose their colour if you leave them to dry for too long but this seems to be fixed by using a topcoat. I haven't used these an awful lot so can't really comment any further.
This is an acrylic mold, I got one with heart shapes and one with bows. They were €1,70 each. The heart on my thumb was made with this mold as you can see. I will be getting more molds cause they are very easy to use and so much fun! I might not use them as much when I start to get better at making acrylic designs but right now they're perfect! You can use these molds not just to create nail art, you can stick these hearts (or whatever design you might have) to anything with some glue!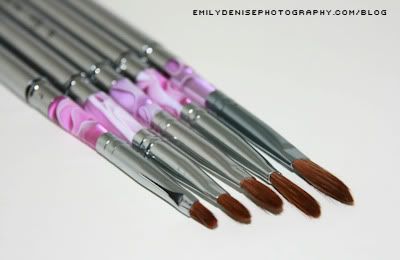 These are a set of 5 acrylic sable brushes I got for €6,30. One of my local nail wholesalers sells these exact brushes for €7,99 a piece so basically, this is a bargain! They are very high in quality and they are absolutely stunning. You can take off the end and put the brush in there so you can safely store them when travelling or to protect them from dust. I would buy these again in a heartbeat! Born Pretty Store also sells the exact same set of regular nail art brushes I bought on Ebay for a bit less than what I paid, if you need a few nail art brushes I would totally recommend them.
This is by far my favourite order at just €9,50 for 100 fimo canes, two nail wheels, 10 cutters and glue. It's the best deal out there if you like fimo canes, GET THIS! I felt like a kid in a candy store when I saw this, it's absolutely amazing. I really can't applaud and compliment this set enough. You get flowers, fruits, brands, cute animals and so much more. Two nail wheels isn't enough to store all your canes so I recommend getting the set of 10 wheels they sell. I'm getting that one with my next order because I want to be able to have all my canes cut up and on display! Love love love it.
This is one of the two polishes I bought. This is a glitter polish I got for €2,90. I really love the bottle, it's similar to that of OPI I believe but the cap is crackled which is really cute. It has small gold glitter particles and red and blue hexagon glitters. I was afraid that these might smell strong since they're of an unknown asian brand but there's no unpleasant smell. I just wish they had more different coloured glitters like this one!
This crackle polish was €3,80. It's hot pink and very cute! The bottle has the same crackled effect as the glitter polish and the bottle itself is matte. I have a weakness for nice bottles so seeing this bottle made me very happy. Crackle dries matte so the top pink swatch is without topcoat, it dries a lot lighter so if you don't like that you can add topcoat (bottom swatch) which brings out the colour of the bottle itself. I didn't use a base colour on my swatch wheel so you can't see the crackles that well but they do crackle very nicely, my swatch is somewhat unrepresentative of this polishes crackling abilities. How many times did I say "crackle" now? Eek!
These are steel decoration balls. I got them for just €2,90. I have been eyeing these steel balls up for aaaaages. I first saw them on eBay but either didn't like the colours they had or the prices but this was just what I was looking for. Gold and silver and a very good price. I am planning on getting the coloured steel balls next time I order because they look very cute as well.
Aren't these the prettiest? They're dried flowers I got for just €4,30. They're almost too pretty to use. I'm not sure when or how I'm going to use these but I absolutely loved them so I got them anyway. Oops!
Not pictured but also purchased: a white buffer block which is very good and very cheap and a nail wheel with 3 different shapes of pearl rhinestones for just €2,80.
So here's the design I made using my BPS goodies! I made hearts with the acrylic mold, added the steel balls around one of the hearts and one of the pearls. Added pearls for a half moon effect and steel balls around a french. I used China Glaze Snow for the white and H&M Check Me Out for the pink.
And this is my very very first attempt at acrylic 3D art. I know it's not much and the bow isn't perfect but I'm really pleased and proud with how it turned out. It's not bad for a first try I think! Since I couldn't use it for my nails I stuck it to my favourite bottle of topcoat, Barielle Instant Liquid Nail Hardener, since the colour matched the polish.
I can definitely recommend Born Pretty Store, their range of products is great and the prices are amazing not to mention free shipping which is almost unheard of these days. I'm overly excited and in love with BPS and can't wait to order again. I sound like I am addicted, haha, I think I am.