6th February, 2011 - Posted by Emily - 11971 Commenthttp%3A%2F%2Fwww.emilydenisephotography.com%2Fblog%2F%3Fp%3D1197Mint+Green2011-02-06+18%3A51%3A02Emilyhttp%3A%2F%2Fwww.emilydenisephotography.com%2Fblog%2F%3Fp%3D1197
For those of you who don't like mint green, look away now! For those of you who adore mint green just like I do, stay with me and drool all over these images!
Here's my humble collection of mint greens, I only have about 7 (or 5 if you only count the true mint greens) but I'm not going to stop buying them any time soon. They are simply amazing and I'll never get bored of them! Mint green always does it for me, every single time.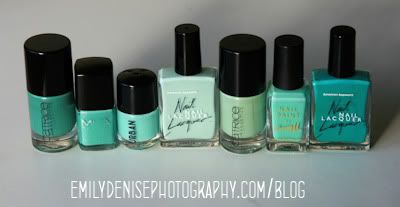 Catrice – I Sea You!
MUA – shade 5
New Look – Urban
American Apparel – Office
Catrice – Sold Out For Ever
Barry M – Mint Green
American Apparel – Malibu Green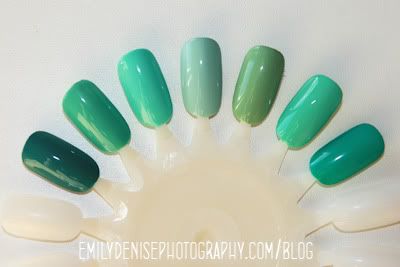 Swatches in the same order as above.
My favourite is definitely Office by American Apparel, it has the colour of chocolate chip mint ice cream (which tastes disgusting but looks great). The two on the outside, I Sea You! and Malibu Green are more teal rather than actual mint green but still deserved a place in this line-up I think.
Still on my mint green wishlist are; China Glaze Re-Freshmint, Essie Mint Candy Apple, Models Own Jade Rock, Illamasqua Milf, Mac Peppermint Patti, Revlon Minted.… Yeah… Keep dreaming Emily!