16th December, 2010 - Posted by Emily - 10433 Commentshttp%3A%2F%2Fwww.emilydenisephotography.com%2Fblog%2F%3Fp%3D1043Holiday+Gift+Ideas2010-12-16+19%3A56%3A07Emilyhttp%3A%2F%2Fwww.emilydenisephotography.com%2Fblog%2F%3Fp%3D1043
When I went to New Look a few days ago I came across these two gift boxes! They have a ton of gift boxes right now with nail polish, make-up, lip-gloss, eyelashes and others. I bought these as a present for myself (something you need to do once in a while!) but I thought I'd share them with you as gift ideas.
Set #1: Colour Box. This box contains six polishes, mostly pinks and reds but it also contains one really pretty greige. None of the colours are named. The bottles are 10ml. Formula of these is quite good, didn't expect them to be worth much but they're not too bad. Scroll down to see a few swatches. This was €6,99.
Set #2: For The Girls, Nail Bar. This awesome box has 10 polishes, they're minis and hold 7ml which isn't too bad for minis. Each bottle is printed with its name. The formula of these is also really good, better than the first set, the only thing that's wrong with these is the brush. They all have the most awful brush ever which makes it quite hard to paint your nails unfortunately! To me it's not that much of a downside, I can work my way around a bad brush but it's still worth mentioning. I definitely recommend this set over the first as the colours are really gorgeous whereas the ones in the first set are less interesting. It cost €9,99.
Set #1:
All six bottles lined up.
This red is really gorgeous and vibrant. A classic.
A really fun peachy pink, perfect for summer.
Like I mentioned above, besides (boring) reds and pinks this set contains a greige.
Set #2:

All ten colours. F.L.T.R: Vamp, Vixen, Urban, Buff, Princess, Poppy, Reef, Bambi, Pirate, Blossom.
Buff. This set also contains a greige, they're very similar but not an exact match. I think it's probably made in the same factory but this is from a different batch so colours can differ slightly.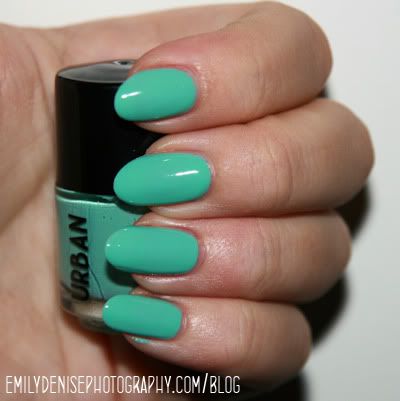 Urban. Hooray, it's a mint green! You all know how I love mint green, this one is definitely one of the prettier ones! I'd recommend this set for this colour alone!
Vamp. I know you won't believe me but it's not a lie, this is ONE coat. Yes, you heard me, one! I have never come across such an opaque black, it's a dream! I don't wear black often but I know I'm going to put this to much use for nail art.
Bambi. This is such a cute colour, a cotton candy pink is what I would call it. This is 4 coats so not that opaque but it's definitly not a sheer French manicure pink either.
Reef. This is a really pretty coral orange, it's in the name, coral reef! I think this is two or  three coats.