21st February, 2011 - Posted by Emily - 10211 Commenthttp%3A%2F%2Fwww.emilydenisephotography.com%2Fblog%2F%3Fp%3D1021Models+Own2011-02-21+17%3A41%3A43Emilyhttp%3A%2F%2Fwww.emilydenisephotography.com%2Fblog%2F%3Fp%3D1021
I've been meaning to post this entry ages ago, oops. Seeing as I have been ill for the past week (started as a cold but now I have tonsillitis
) I haven't exactly been able to make blogposts so this seemed like the perfect time to post this as I have another models own post coming up soon. Enjoy!
On my London wishlist was the brand Models Own, unfortunately I completely forgot about it and didn't pick up any while I was there. After some research I found that River Island stocks Models Own, and we only recently got our own River Island in Antwerp so while I was there I finally bought a few bottles!
Not only did they have Models Own polish they also stocked the WAH Nails nail art pens! I've been drooling over these on the WAH Nails blog so I was beyond excited when I bumped into these!
This is the nail art pen in close up, it has a fine tip at the top and if you screw open the bottle there's a fine brush inside. They were €8 each. (kinda expensive since I bought 38 nail art pens on ebay for only €14 a few weeks later, meh!)
Now here are the Models Own nailpolishes I was able to pick up: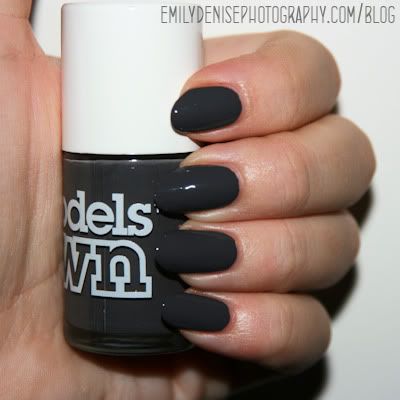 Models Own – Mushroom. A really nice greyish colour, it's slightly lighter in person.
Models Own – Vintage Pink. Yum, here's another fix for my dusty/dirty rose addiction. This shade is slightly lighter and more blueish in person, my swatches turned out a little dark it seems…
Models Own – Peach Puff. What an adorable name! I added half moons with the Models Own white nail art pen. Half moons are always so elegant! Peach Puff is such a great colour, I really love nudes and peaches, this one is a bit of both so it's bound to win!
Here I added a black line with the black Models Own nail art pen. This was such a pain to paint! Eek! Definitely skip this step if you don't have steady hands.
Conclusion: I'm definitely liking Models Own, they have some really interesting and fun shades. However I'm not hugely blown away by their formula, they still use toluene (a solvent) in their polishes which makes them smell kinda rank so that is a bit disappointing seeing as they don't come at the cheapest of prices. They retail at €6,50 at River Island, the nail art pens are €8.